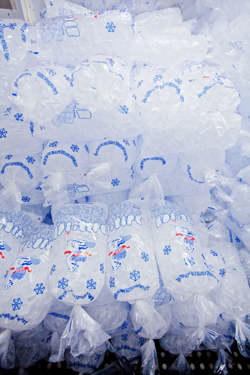 Ice cubes in plastic bags (2,5 Kg or 5 kg) from Djib'Ice Ltd are the perfect ingredient for your festivities, barbecues, birthday parties… The freshness in the pure state ! Ice cubes must reach the highest standards of quality and safety to be potable. Friendly and convenient our ice cubes are a must for a perfect serve.
Ice cubes are made from water filtered by latest reverse osmosis technology. The shape is cylindrical with a size of 1,25 inch to fit perfectly in your glass.
TO reach the food safety standards, the water is passing through the following process : active carbon filters, softeners, reverse osmosis filtration and UV filter. The packaging process prevent any contamination of the product.
Ice block : made from a potable water filtered by reverse osmosis technology, the Djib'Ice blocks are available on 3 different sizes for all conditions : camping, fishing trip, excursion in the bush, military operations,…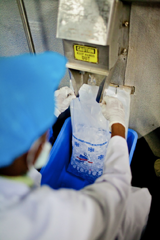 Crushed ice : The ice cube is perfect to put in the glass and the crushed ice will help cooling down your beverages from outside. ADAPTED to the size of your ice boxes, crushed ice will be very efficient to keep cold all your bottles.
Packaging : – Ice cubes are available in two size bags : 2,5 kg (approx 75 cubes) and 5 kg (approx 150 cubes).
- Ice blocks are available in three size bags : 6 kg camping size bag – 12kg bag (fishing trip, special events,…)- 25 kg (
industrial use
and special events) - Crushed ice is packaged in 12 kg bags
SERVICES
Reefer trucks rent –
Potable water
tank truck rent – Special events organization – Potable water delivery in bulk -